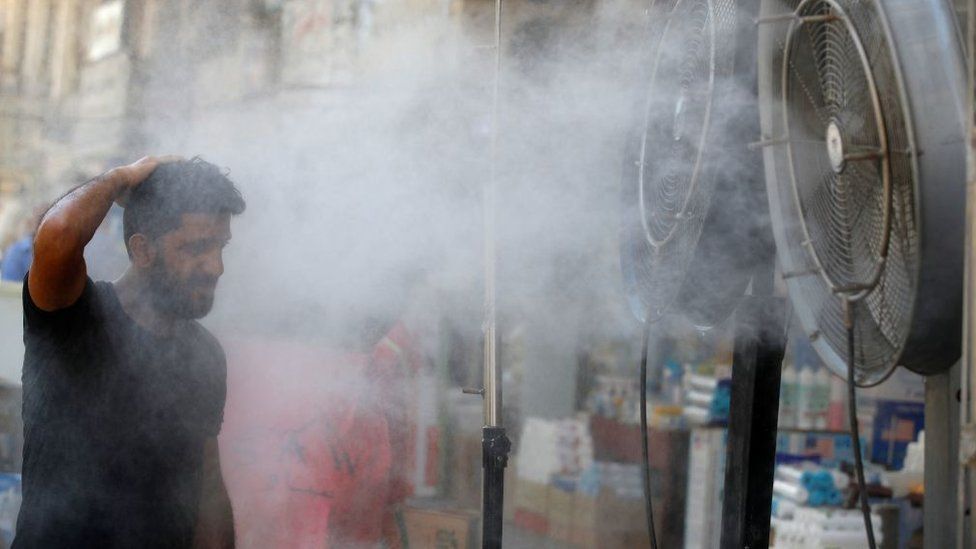 State employees in many parts of Iraq have been given a day off work as temperatures rise to above 50C (122F) in several areas, local media report.
Several of the country's cities topped the list of the hottest places in the world on Thursday.
As a result of the scorching heat, at least 10 provinces suspended work for most state employees, Kurdistan24 said.
A heatwave in the country has been ongoing since mid-July and is forecast to continue.
Burning heat is not unusual in Iraq, as one of the hottest places on Earth. But residents say conditions are worsening.
In the southern port of Basra, where temperatures are particularly high, a four-day holiday for state employees has begun.
Though offices are shut for many employees, many say they will continue to suffer as regular power cuts mean that air conditioning is often unavailable.
This year stifling dust storms have also increased, obstructing the sky and causing the suspension of services.
Heatwaves have become more frequent, more intense, and last longer because of human-induced climate change.
The world has already warmed by about 1.1C since the industrial era began and temperatures will keep rising unless governments around the world make steep cuts to emissions.